Based in the San Francisco Bay Area, J. Elliott Designs specializes in creating unique laser-cut wood and stained-glass art that beautifies any living space. With designs inspired by a range of cultural and historical influences, each piece balances intricate, elegant motifs with the simplicity of wood, glass, and light.
Select from existing pieces that are waiting to become a new focal point in your home, or customize one of our current designs by choosing from a selection of hardwoods, stains, and glass colors. After the laser-cutting process, each layer of wood is carefully hand-sanded and stained before being assembled and married to the custom-cut glass, ensuring that each finished piece is truly one-of-a-kind.


Product Gallery
Explore our gallery of laser-cut wood and stained glass art today.

View Now
Our Blog
Be the first to know the latest news and where we're showing our work.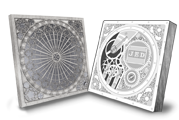 Read More
Request a Quote
Find out how one of these unique pieces can be yours today.

Contact Us
© Copyright 2018 J. Elliott Designs - Designed by Pexeto